Our school is operated by Pontefract Academies Trust.
The Trust was created under the provisions of the Academies Act 2010, as amended by the Education Act 2011. Its structure of governance is constituted under the Articles of Association. The Trust is an exempt charity by virtue of the Charities Act 2011.
The Funding Agreement between the Department for Education (DfE) and the Trust sets out the terms and conditions on which grant is made. The Trust Board is responsible for ensuring that the conditions of grant are met. As part of this process the Trust is required to have in place appropriate arrangements for sound governance, financial management, securing value for money and accounting, and for using public funds for the purposes for which they were intended by Parliament.
This Trust Board is accountable in law for all decisions about its schools. This does not mean that the Trust Board is required to make all of the decisions itself. Some decisions can be, and are delegated, including to SPRB, delegated officers, and other Trust Board established committees. The Scheme of Delegation sets out the framework which the Trust Board has approved.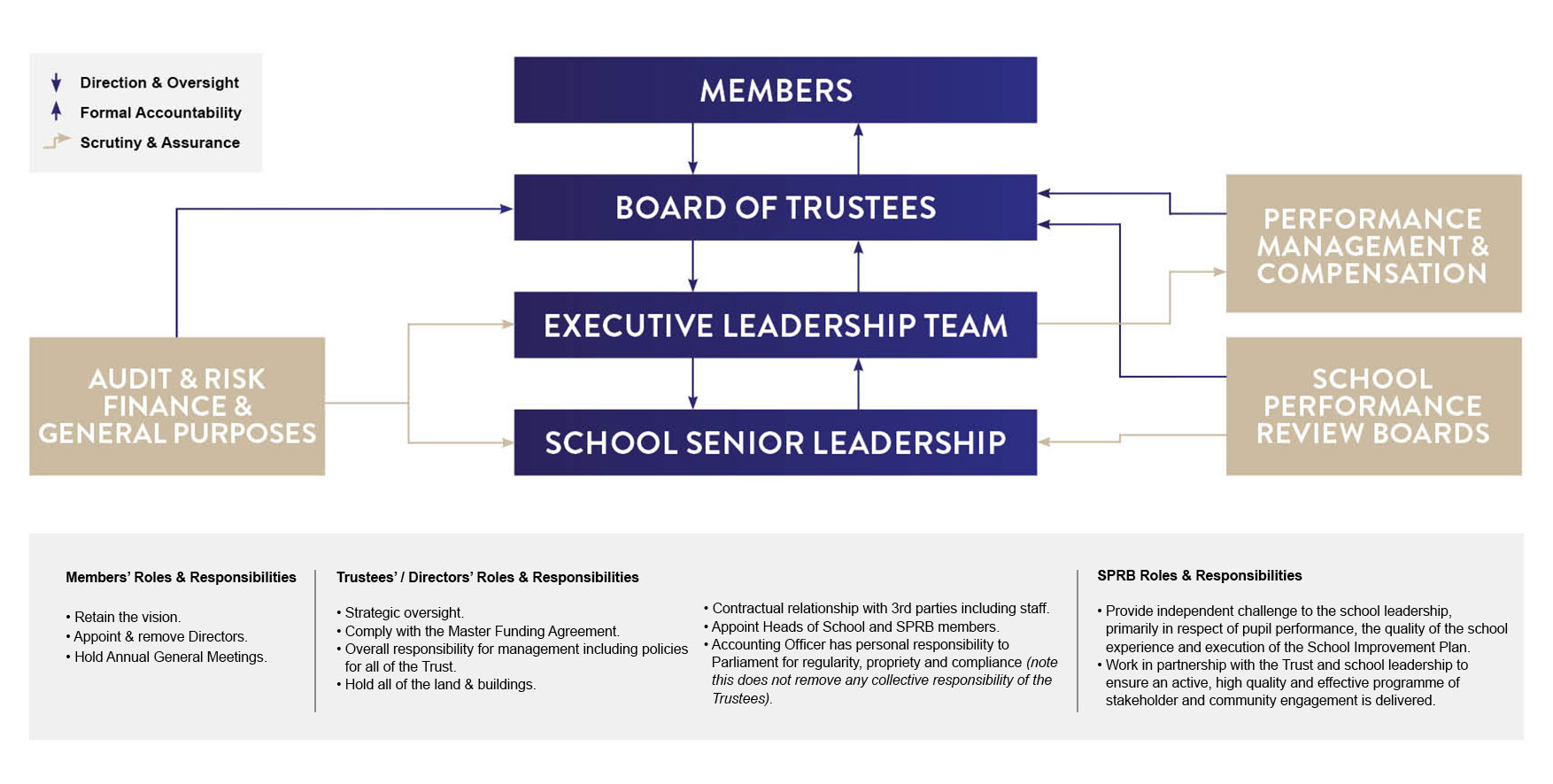 Larks Hill J & I School Performance Review Board (SPRB)
The Larks Hill J & I School SPRB is a sub-committee of the Trust Board and has various responsibilities delegated to it through the Pontefract Academies Trust Governance Policy and Scheme of Delegation.
The SPRB of Larks Hill J & I School is currently made up of:
| Name | Role | Appointed By | From | To |
| --- | --- | --- | --- | --- |
| D Wilkins | Chair | Trust Board | 05/10/2020 | 04/10/2024 |
| S Annable | SPRB Member | Trust Board | 10/12/2019 | 09/12/2023 |
| S Conroy | SPRB Member | Trust Board | 29/09/2014 | 28/09/2022 |
| A Dee | SPRB Member | Trust Board | 17/09/2014 | 16/09/2022 |
| I Shuttleworth | Headteacher | Ex-officio | 11/06/2018 | Not Applicable |
The Chair can be contacted at the following address:
Larks Hill Junior & Infant School
Larks Hill
Pontefract
WF8 4RJ
or by email at dwilkins@patrust.org.uk
We feel privileged to be in a position of looking for new talent to appoint as our School governors for our School Performance Review Board. To find out more information on what the position entails or to apply, please click here.
Sarah Annable (SPRB Member)
Steve Conroy (SPRB Member)
I have lived in Pontefract all of my life and grew up on Larks Hill. Both of my children have attended the school, with my youngest just about to leave Year 6. I have been a Member of the SPRB for 4 years now. School improvement is all about getting the children to be the best they can be. A big part of that is to review information from lots of sources.
I have a strong background in analysis and this helps to get a quick grasp of figures and challenge them where appropriate for the benefit of all pupils. I have also coached the Year 5/6 football team for the last couple of years, which I have really enjoyed. Getting the players to work as a team has been a real delight.
Anthony Dee (SPRB Member)
For most of my career I have worked as a manager for bus and tourist companies. I am now semi-retired but work part-time for Poppleton's Coaches in Pontefract.
I have been a Member of the Larks Hill SPRB for 16 years. I am also Chair of Governors and a Director at New College in Pontefract, Chairman of the Carleton High School Parent, Teacher and Friends Association and a Member of the committee of the Wakefield Association of School Governors. I also serve on the Transportation and Rail Groups of Pontefract Civic Society.
My two daughters attended Larks Hill J & I School 10 years ago and I am pleased to give my services as a way of showing my gratitude to the school for the education which they received.
Ian Shuttleworth (Headteacher)
Prior to becoming Head of School at Larks Hill Junior and Infant School, I thoroughly enjoyed performing the roles of Head of PE, Director of Sport and Class Teacher in my previous schools. During more recent times, I performed the roles of Deputy Headteacher and also Headteacher. I was delighted to be appointed as Head of School at Larks Hill in June 2018, at what is an exciting and forward thinking time for the Pontefract Academies Trust.
My overriding ambition is to raise standards and expectations at the school across the board, and to provide the children and their families with the highest possible standard of academic and pastoral support during their time with us. Ensuring that the children are provided with every opportunity to be the best version of themselves and are able to maximise their potential, is the number one priority of all staff who work at the school.
The power and importance of having high level communication and strong partnerships in place with parents/carers and the local community should not be underestimated and this is something that I always expect to be at the centre of our school ethos. It goes without saying, that we have such a responsibility to provide all our children with the skill sets and life skills which will enable them to be able to access success and achievement as they move through their school journey and beyond.
SPRB Current Register of Business Interests
Role
Name of business or organisation/educational organisation
Nature of business or organisation
Nature of interest
Date of appointment of acquisition
Date of cessation of interest
D Wilkins
Chair
None declared
S Annable
SPRB Member
Larks Hill J & I School
Education provider
Assistant Headteacher
October 2017
S Conroy
SPRB Member
None declared
A Dee
SPRB Member
Frank Poppleton & Co
Coach Operator
Part-time Driver
01/09/2017
N/A
New Collaborative Learning Trust
6th Form College provider
Director & Governor
01/09/2016
N/A
I Shuttleworth
Headteacher
None declared
SPRB Membership & Attendance Summary 2019/20
From
To
Appointed By
Meetings attended
Out of a possible
S Annable
10/12/19
09/12/23
Ex-officio
1
2
S Conroy
29/09/14
28/09/22
Trust Board
0
3
A Dee
17/09/14
16/09/22
Trust Board
3
3
I Shuttleworth
11/06/18
N/A
Ex-officio
3
3
Left within the last 12 months:
G Miller (Chair)
13/04/15
31/08/20
Parent Elected
3
3
D Malkin (Vice Chair)
06/10/17
31/05/20
Trust Board Appointed Parent
2
2